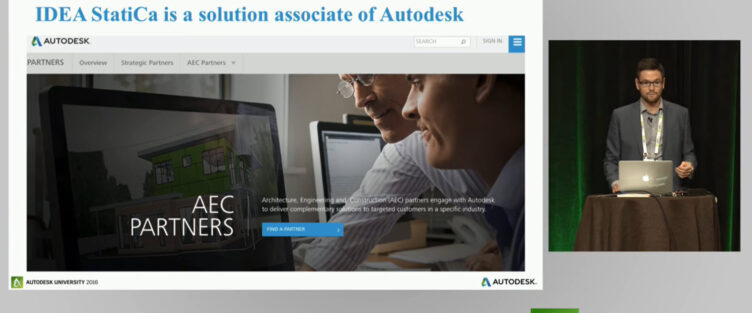 Presentation IDEA StatiCA at Autodesk university in Las Vegas
Application IDEA StatiCa Connection can design all types of welded or bolted connections, base plates, footing and anchoring. It provides precise checks, results of strength, stiffness and buckling analysis of a steel joint. Bolts, welds and concrete blocks are checked according to EN/AISC/CISC/AU/SP 16/ Chinese/ Russian. Templates for most-used connections are available as well as wide range of predefined hot rolled and sheet welded members.
IDEA StatiCa in the global workflow
Do your project from scratch or build on geometry and loading imported from Robot, Revit, MIDAS Civil + Gen, STAAD.Pro, SAP 2000, Scia Engineer, RFEM, RSTAB, AxisVM, ConSteel and others.
Take advantage of the link between IDEA StatiCa and Tekla Structures or Advance Steel to provide workshop drawings and support manufacturing process.
watch the Presentation IDEA StatiCA at Autodesk university in Las Vegas
Read More